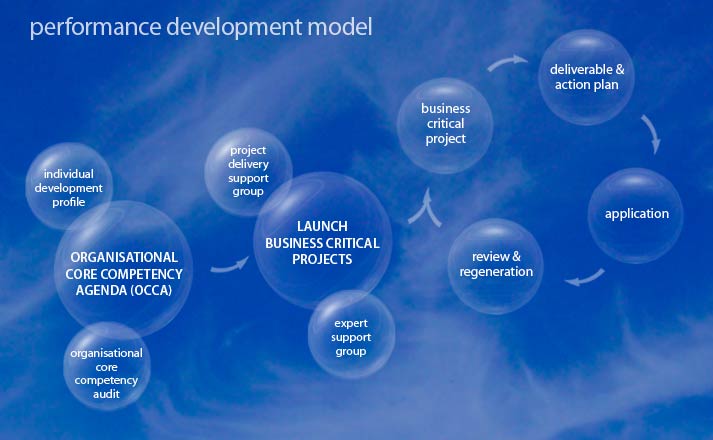 In response to the increasingly competitive business climate in all sectors of the global marketplace, our clients require key performance outcomes and measures of ROI from organisation development and learning initiatives in their organisations. These include:
Individual and team leadership performance development and management development
performance based solutions that support learning at an individual, team and organisation level on an on-going basis
demonstrably tangible application of organisational core competencies and individual skills to the delivery of strategic commitments
an organisation environment that supports continuous performance improvement and ensures this becomes part of the organisation culture
leverage of e-learning technologies in the delivery of development initiatives to maximise learning and the use of management time
The Performance Development Model (PDM) supports these requirements by delivering a leadership and management development solution grounded firmly in an action-learning environment. It is designed to offer a high degree of flexibility.
The outcomes of the PDM embrace the way individuals, teams and organisations learn from their experience, and how they apply that learning to achieve measurable organisation goals. The integrity of the PDM rests in achieving two outcomes:
linking on-going development needs of individuals and teams with measurable outcomes that meet the strategic requirements of the customer or organisation
optimising a client organisation's capability to nurture human potential in the service of strategic business goals, through the use of an action-based learning paradigm.
The Performance Development Model creates and supports a foundation for continuous performance improvement and business success.